Last month, EPIP held a webinar titled: Navigating Shifting Sands – What We Can All Learn from Jewish Charitable Giving to discuss findings from the first-ever national study on American Jewish giving. This research, Connected to Give: Key Findings, is the product of a collaboration of more than a dozen Jewish private and community foundations working in partnership with Jumpstart to map the landscape of charitable giving by American Jews.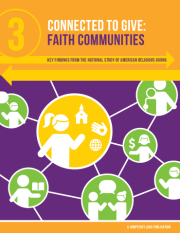 As is the case for many diverse communities, the contemporary Jewish philanthropic community is challenged by questions of effectiveness in the face of changing times. Funders and nonprofits must think about how to appeal to a younger and more diverse generation of donors, maintain mindshare within a wider range of global issues and causes, maintain dwindling support for multi-purpose organizations, leverage innovative technologies and convey the impact of what they do.
The key takeaways from the research were:
Engagement with Jewish community is a paramount driver of Jewish charitable giving and even drives giving to non-Jewish causes.
Most Jews who make charitable contributions give to both Jewish and non-Jewish organizations.
Younger Jews are less like to give to Jewish organizations, and more likely to give through new methods (such as giving circles or crowdfunding)
One of D5's priority areas is to "raise the visibility and build the capacity of diverse donors and population-focused funds ."
These findings about charitable giving in the Jewish community – the importance of connection to community, the breadth of giving beyond the community, and the use of new platforms for giving – are of great interest to all of us who are working to engage more diverse donors to give to their communities.
The funder consortium just released its third report which focuses on the connections between charitable giving and a range of religious identities, Connected to Give: Faith Communities.
Tags: diverse donors, funding, population-focused funds
---